$44.60
$59.95
USB Electric Softshell Heated Vest Adult Outdoor For Men
UPGRADE RAPID HEATE TECHNOLOGY- Our vest covers 4 heating areas, not only warming your stomach, back, hot carbon fiber even extends to the neck, you don't even need to spend extra money to buy a scarf. Powered by any 5V 2A charger or power bank (Note: not included, an additional purchase is required), its heating range is 50°C - 70°C (122℉ - 158℉). And there is a built-in pocket to place the power bank, which is very portable.
FASHIONABLE ERGONOMIC DESIGN - The V-neck design of the collar part is specially designed for the shape of the chin, which reduces the uncomfortable feeling and skin damage caused by the rubbing of the collar. Only weighs 400g, but the warmth effect is equivalent to a wool sweater plus a goose down jacket. In addition, it relieves joint pain, lower back strain, and transmits heat over a wide area.
WASHABLE WARNING -Our heated jacket can be machine-washed or hand-washed. If machine-washed must use a laundry bag to avoid wire breakage. It is recommended to wash it by hand with a mild detergent to extend its life. Do not wring or dehydrate. Must be completely dried after washing for reuse.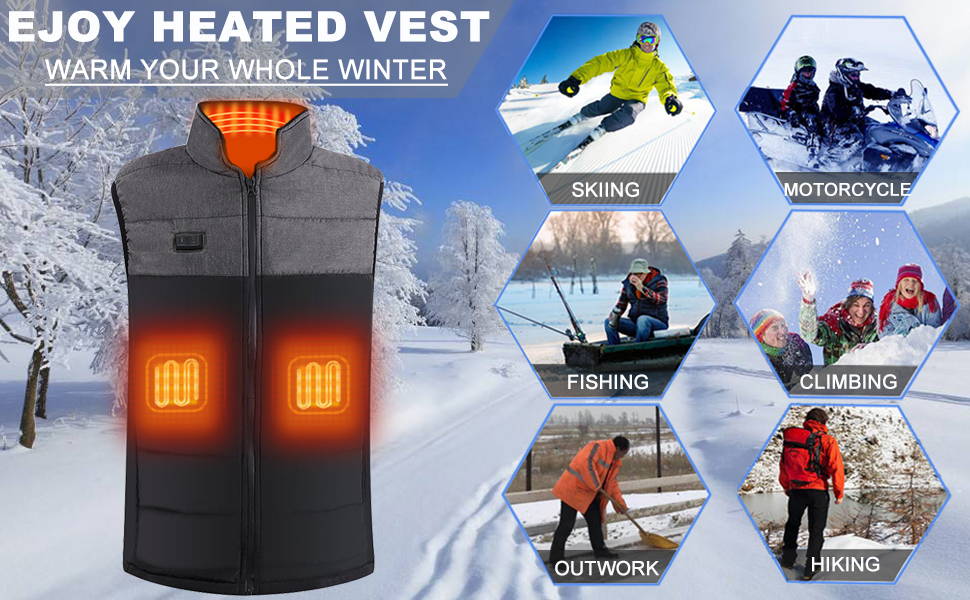 Heated Vest for Men and Women Electric Warm Heat Jacket with Dual Power Switch -- Give You A Warm Winter!

This heated vest can be widely used in various outdoor activities. It will make you feel warm quickly, and you can choose the heating area and the heating level, which is very intimate. Just a small button, it can warm you the whole winter. The heated pads can also help promote blood circulation, relieve the pain of muscles. Best Christmas gift for parents and families.

New Dual-Switch Design – Back & Belly Switch Can Be Operated Separately

FEATURES
New dual-switch design – back & belly switch can be operated separately
9 different heating modes – each switch has 3 levers heating setting. High-Medium-Low
Enjoy customized packaging – it will be a perfect gift idea. Also convenient in the next daily use
5 sizes available – size designed according to American standards, perfect fit. From S to 2XL
Skin-friendly material – made of soft memory fabric. Water-drop proof and windproof
Safer and high-quality carbon fiber heater – 4 heating zone (belly 2pcs, neck 1pc and the biggest heater in entail back)
Size reference:
Manual measurement, please allow an error of ±2cm/±1in

M: Height(ft): 5.2-5.6 Weight: 132-150 Ib Chest: 42.5in Length: 26in
L: Height(ft): 5.6-5.9 Weight: 150-165 Ib Chest: 44.1in Length: 26.4in
XL: Height(ft): 5.7-6.0 Weight: 165-187 Ib Chest: 45.7in Length: 26.8in
XXL:Height(ft): 5.9-6.2 Weight: 176-198 Ib Chest: 47.2in Length: 27.4in
XXXL: Height(ft): 6.0-6.4 Weight: 187-209 Ib Chest: 48.8in Length: 27.6in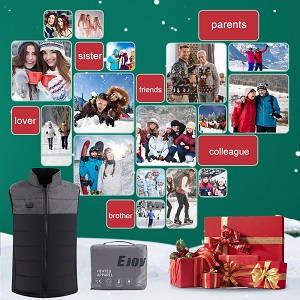 Christmas and Thanksgiving Gift

It Is A Perfect Gift For Family Members And Friends. The Heating Vest Is Suitable For Men, Women, Adult, And Elder People. It Is Also A Perfect Gift For Birthday And Coming Thanksgiving Or Christmas Day, Etc.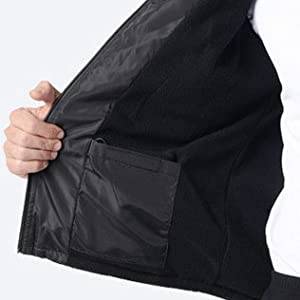 Built-in Pocket

Built-In Pocket Can Place Your Power Bank, No Need Extra Pack, It Is More Convenient. Just Plug In The Vest Using The Easy-Access Charging Port.

How To Use

Insert The USB Port To 5V/2A Power Bank, Put The Power Bank In The Pocket (Note: Power Bank Need To Purchase Separately);
Long Pressing The Switch Of The Vest For 3 Seconds To Turn It On/Off;
Short Pressing The Switch To Change The Heating Mode.